La fabricación de pantallas y plantillas juega un papel clave para obtener una impresión de óptimos resultados.
La gama de productos "Materiales para la Preparación de Plantillas" abarca las Emulsiones Norikop, ya muy establecidas en el mercado, al igual que las correspondientes sustancias auxiliares que las complementan perfectamente.
Emulsiones Norikop
Las emulsiones polímeras Norikop Diazo UV satisfacen la mayoría de los requerimientos de las aplicaciones serigráficas para la industria y el sector gráfico.
New premium emulsion for the manufacture of high quality printing stencils. The UV-Diazo polymer emulsion is suitable for processing solvent and water-based as well as UV curing ink systems.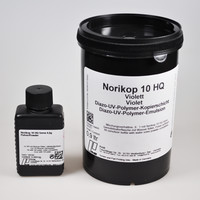 Solvent and Water Resistant Premium Diazo-sensitized UV Polymer Emulsion for Optimal Printing Results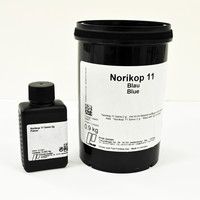 Comparar característicasEmulsiones
aplica en este caso
en principio indicado
indicado, entre otros
Suitable for mesh (threads/cm)
Water-based UV curing inks
Shelf life in month is approx.
Sensitized stored at 5 to 8 °C
Coated screens, not exposed