Emulsiones
Norikop 11
Solvent and Water Resistant Premium Diazo-sensitized UV Polymer Emulsion for Optimal Printing Results
Contáctenos ahora!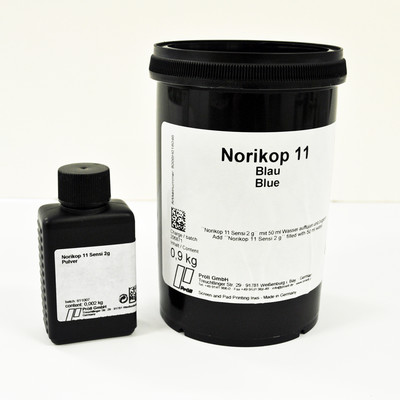 Area of Application
Norikop 11 is suitable for the production of solvent and water resistant stencils for high quality requirements.
Norikop 11 can as well be used for processing UV curing screen printing inks.
Norikop 11 is a high-quality diazo-sensitized UV polymer emulsion with 40 % solids.
Norikop 11 is used in the following screen printing markets:
industrial screen printing
graphical screen printing/promotion
electronics
Color / Pigmentation
Blue
Sensitized: Green
Handle Norikop 11 under yellow fluorescent tubes or low wattage tungsten light.
Characteristics
tack-free surface
high solids content
excellent mesh bridging
excellent resolution and definition
optimal printing results for fine lines and halftone prints
decoatable
Further information can be found in our technical data sheets in the Downloads section
PropiedadesNorikop 11
Suitable for mesh (threads/cm)
Water-based UV curing inks
Shelf life in month is approx.
Sensitized stored at 5 to 8 °C
Coated screens, not exposed
Descargas generalesEmulsiones