Tintas de Serigrafía y Lacas Mate para Diales de InstrumentosTintas de Serigrafía con Base Solvente
JET® 200
Universal screen printing ink for rigid and soft PVC, VC-copolymers, PVC artificial leather, acrylics and polycarbonate
Contáctenos ahora!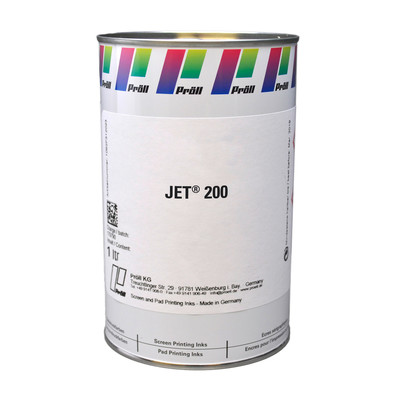 Area of Application and General Characteristics
Fast drying screen printing ink for printing on plasticized and unplasticized PVC, VC copolymers, artificial leather, acrylics, polycarbonate and after preliminary testing on polystyrene.
When printing on thermoplastics, JET® 200 withstands thermoforming.
JET® 200 does constitutionally not contain any pigments based on toxic heavy metals (DIN EN 71, part 3).
Finish
JET® 200 dries satin glossy. The gloss is influenced by the structure of the substrate.
Further information can be found in our technical data sheets in the Downloads section
PropiedadesJET® 200
Polypropylene pre-treated
Descargas generalesTintas de Serigrafía y Lacas Mate para Diales de Instrumentos
Descargas generalesTintas de Serigrafía con Base Solvente