Tintas Espejo y Tintas Pigmentos de Efectos Especiales
Effect-Pigment-Colors
Vast selection of pearl effect and chameleon screen printing colors for all solvents and water-based Proell ink systems
Contáctenos ahora!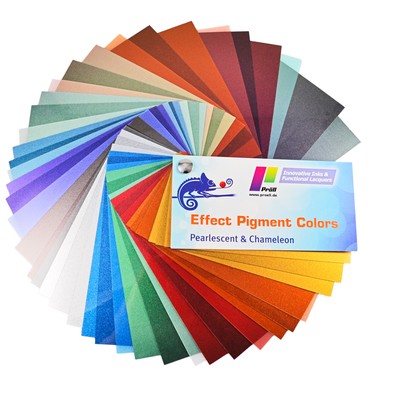 Areas of application and General Characteristics
housings and display windows for mobile phones
handheld computers
automobile interior
membrane switches
plastic packaging
The vast selection of pearl effect and chameleon screen printing colors for all solvents and water-based Proell ink systems is truly amazing.
Available in shimmering silver or effect color shades, our pearl effect inks reflect great depth. The chameleon screen printing inks radiate a metallic gloss and the color varies with the angle of observation and illumination. To enhance the effect, they should be backprinted with black or white.

Further information can be found in our technical data sheets in the Downloads section
Descargas generalesTintas Espejo y Tintas Pigmentos de Efectos Especiales